Nov 30, 2012
3,687
2,506
219
Based on another thread and information that can be gleaned off the interweb, the following scopes will make their appearance at the 2020 SHOT Show.
March F1 5-42x56 High Master (this scope made it's first appearance last year as a prototype but will makes its debut at SHOT 2020 as a production model with a clean .2 mil hash Christmas tree reticle, locking turrets and 40 mil of total elevation with 10 mil turrets, this scope is designed to compete directly with the Schmidt & Bender PM II 5-45x56 but with a wide angle eye piece for generous FOV throughout the magnification range)
March Genesis 4-40x52 (following in the footsteps of the 6-60 introduced last year, the Genesis now has a little brother with 86 mils of total travel, yes you read that right 86 mils, this scope is for the ELR crowd)
March F1 4.5-28x52 High Master (not much info yet, but a few years ago I was asked what my perfect scope would be and I mentioned a Vortex Gen II Razor 4.5-27x56 that weighed less than 30 oz, well my dream might come true with this design as it's going to be short and light and designed for the competition community, this is the one I'm most excited about.)
March SFP 1.5-15x42 Compact (this was a surprise and hopefully will be an ideal scope for hunters as well as the gas gun crowd, if the reticle is done right, this might prove to be the ideal companion to both small frame and large frame AR's)
March FFP 1-10x24 Shorty at only 8.39 inches and 17.18 oz with side parallax from 10yards to infinity!
New March Warranty - https://marchscopes.com/news/3770/ they are saying 10 years now, but really it's a limited lifetime in lieu of their statement: "If a manufacturing problem caused the defect,DEON will repair the scope for no additional cost to the owner – even after the Warranty has expired."
As more information is released I'll try to keep this thread updated.
Pic of the new 5-42x56 High Master
Pic of the new 4-40x52 Genesis
Pic of the new 1-10x24 Shorty First Focal Plane Scope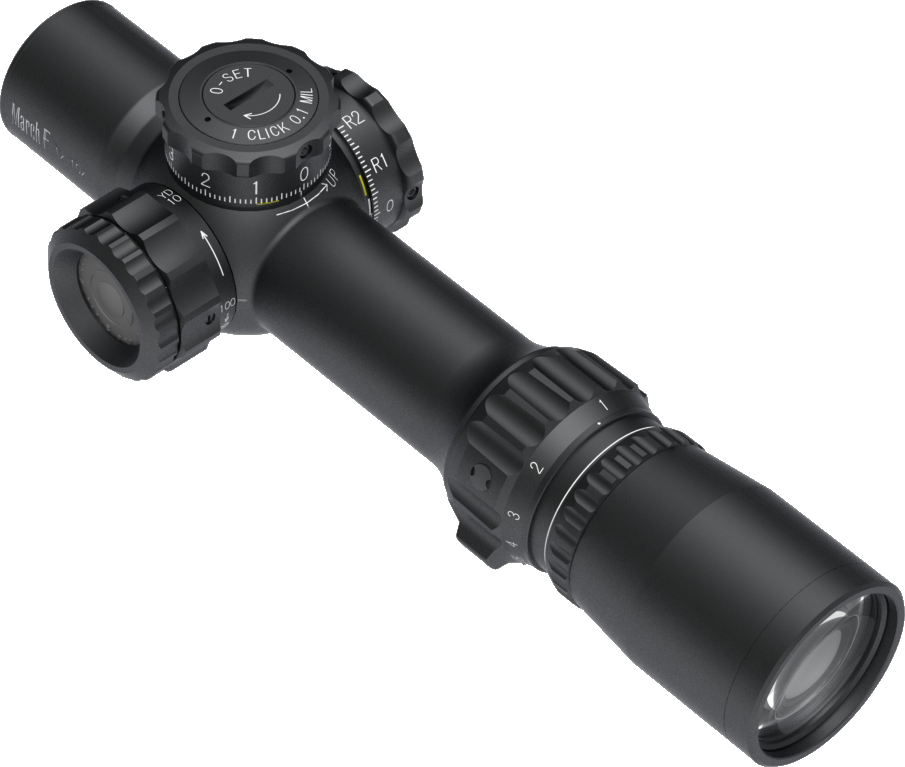 Like the new reticle FML-TR1
Last edited: