Alright sports fans, went out last night and did some testing with the new V1. I knew from the get-go with some and home and neighborhood hood testing, this light was the ONE. I can tell you Surefire hit it out of the park with the new V1. Below are my test shots at 25, 50 and 100 yards vs. the SF M1 on the left, V1 on the right. Obviously our TNV-PVS-14 Omni 8 is hugely clearer through the tube, but my Samsung Notepad III did surprising well.
A note on true effective range. We define true effective range for a light to be able to see into the shadows at night. While the M1's beam can slightly light up a target at night at 100 yards, you can see by the pics below, it's barely effective to really see into the shadows.
Equipment used: TNV-PVS-14 L3 Omni 8.
Date: 28 August 2014
Time: 2100hrs Pacific Time
Conditions: Dark, No Moon, Clear-Starlight, City Sky Glow from 10 miles
Temp: 81deg F.
25 Yards (No white out ever noted real eye, camera processing too much light on white target with the V1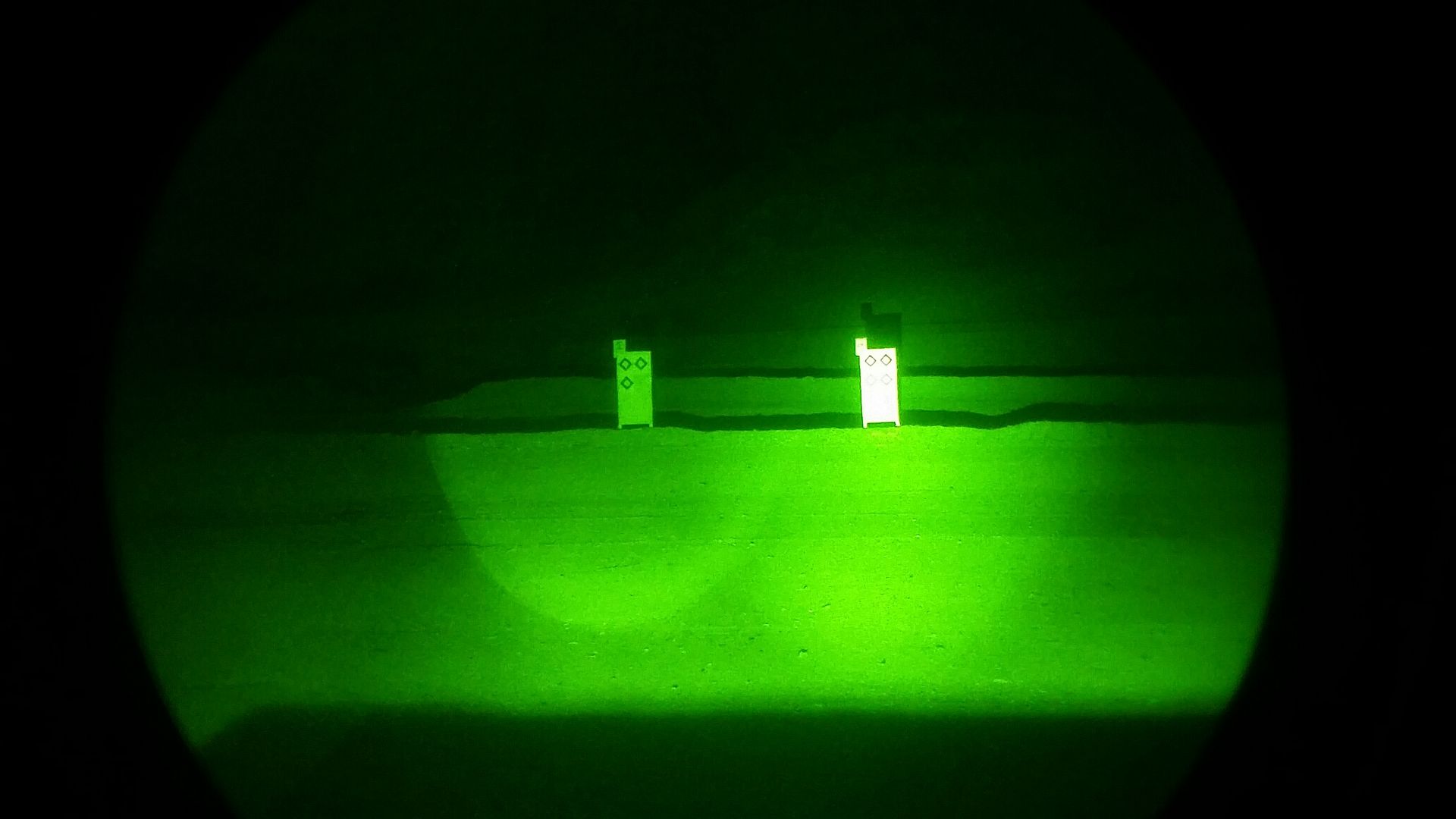 50 Yards
100 Yards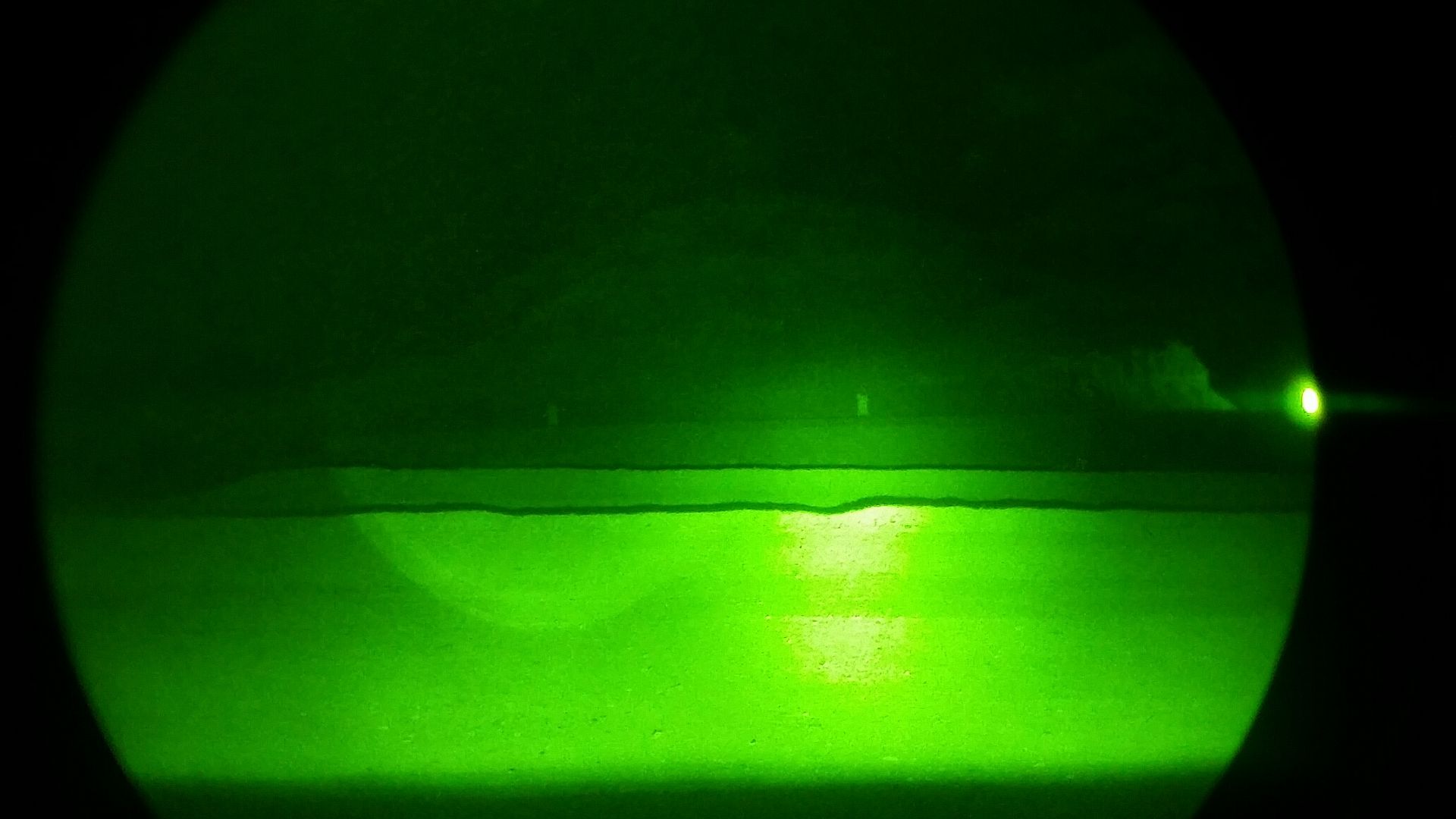 V1 Specs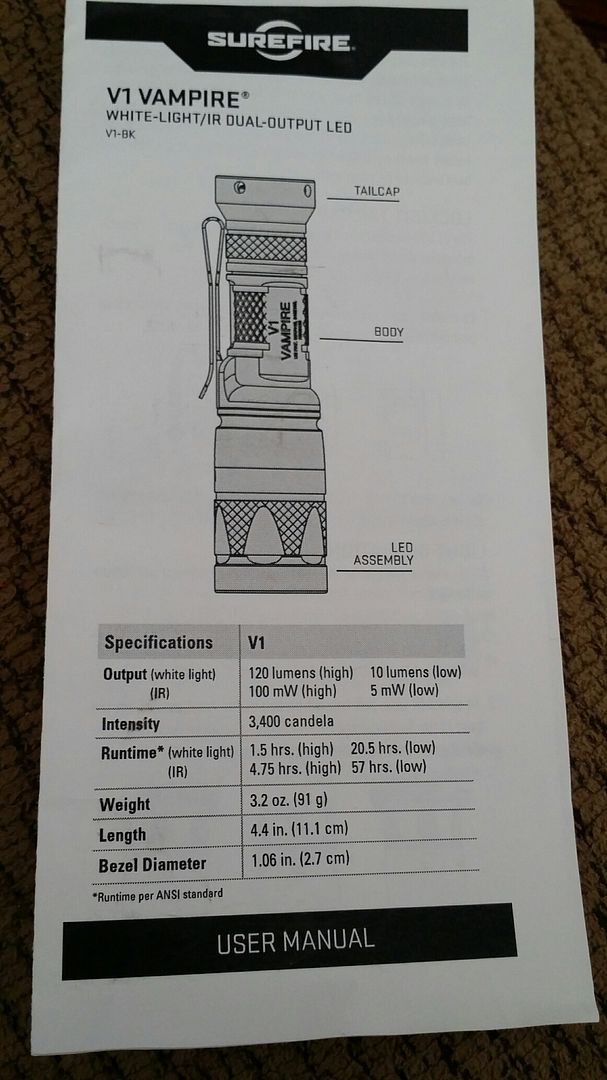 **High/low mode operation**
- First press high
- 2nd press within 1/4 second goes to low mode
-Clicky tail cap or momentary
- Lock out tail cap, simply turn the tail cap until no contact with battery
M1 Specs
Output: IR Only - 10mW
Runtime: 15 Hours
Weight: 3.10 Ounces
Length: 3.80 Inches
Bezel Diameter: 1.00 Inch
As I spoke about earlier in this thread, not only can this new V1 be used out to 150yards with TRUE effective range, it's lens design allows for much brighter spill which the M1 and it's perfect circular beam does not. You can see it in the beam pics, but indoors is where this light does extremely well seeing off to the side in the shadows. It's hard to depict the effective spill with a camera indoors because the camera wants to black out the scene outside the main beam which is not close to what the user see's through a Gen 3 NVD.
Another great feature of the V1 is the ability to use as a pocket light and you can remove the clip and helmet mount using a V-Tac for helmet mounting. One area of the light that that requires a strong manipulation is the pull and turn feature of the bezel to change modes. While this is easily done with the light in your hand, having it on your helmet requires some effort with the pull and turn manipulation. Talking with Surefire engineering, this function will become lighter over time with more working of the mechanism.
Here is the true effective ranges for each at night I observed.
V1 (IR)
High: 150 Yards
Low: 30 Yards
V1 (Vis)
High: 75 Yards
Low: 15 Yards
M1 (IR Only/Single Intensity)
65-70 Yards
Pro's for the V1
1. Light weight
2. Pocket and helmet worn
3. Dual Mode, IR/Vis
3. Bright side spill beam for truly seeing off to the sides which really assists with indoor work
4. 150 yard true range (high mode)
5. Pocket clip (removable)
Cons for the V1
1. Tight "pull" mechanism when changing light modes
2. Run times (for some users in high mode) IR Mode 4- 5 Hours High / 57 Hours Low - Vis Mode 1.5hrs High / 20.5 Low
Pro's for M1
1. Light Weight
2. Price $112.00
3. Run time, 15 hours
Con's for the M1
1. Too perfect beam, no spill
2. IR mode only
3. No pocket clip
In closing, while the Surefire M1 has been my go to IR light for many years now for me and many others, I feel strongly the torch has been past. SF hit a real home run with the V1 and it's does everything I want a small lightweight light to do. I feel we have a real tool for both the day and night fighters out there. It's a gem of a light and for $279.00, I feel it will be met with open arms for many. These units should hit the official shelves in September.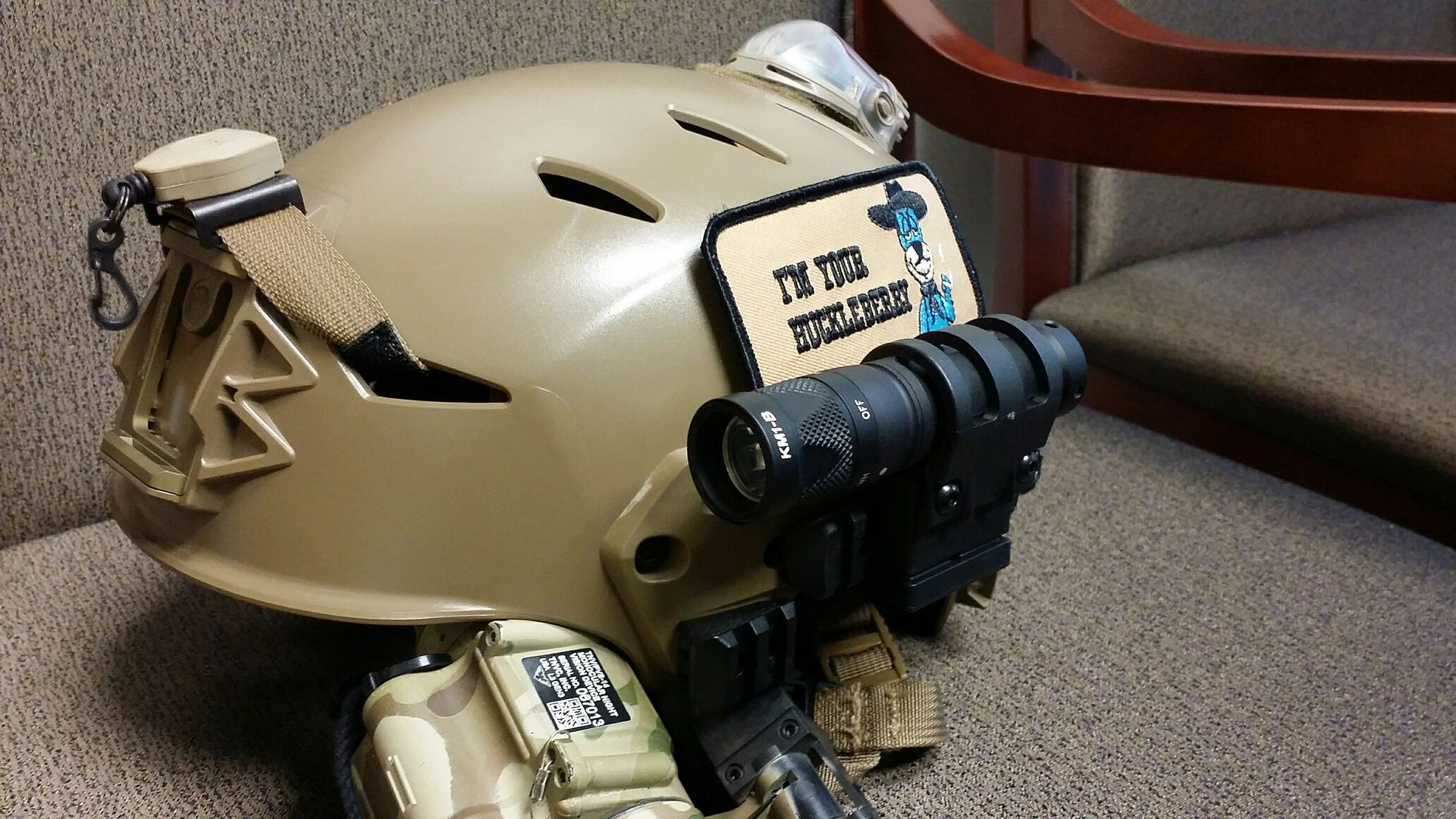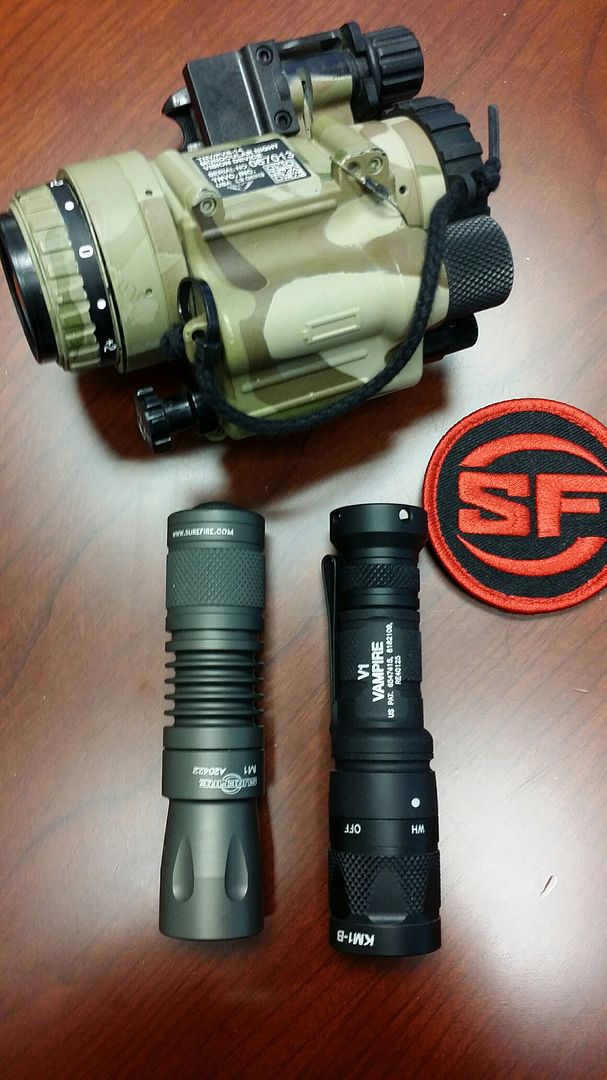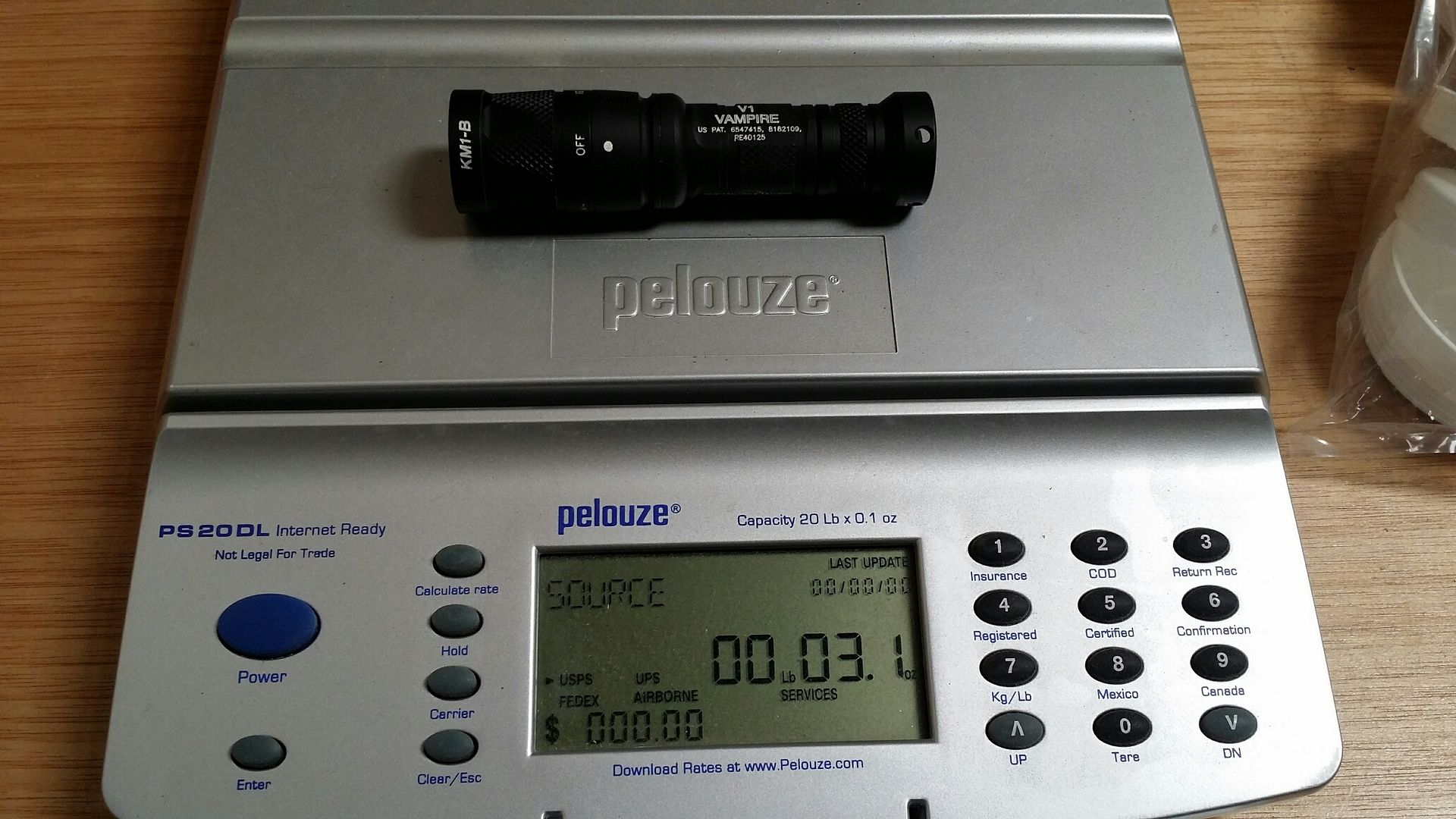 Vic Di Cosola