Jan 13, 2010
1,118
25
48
52
While preparing for the Steel Safari we were looking for a better way to deal with dope cards. We'd tried notebooks, arm bands, all the typical solutions. Some were fast to use but with small writing surfaces, some blew away in the wind, none were perfect. Zach O and I put our heads together and designed this.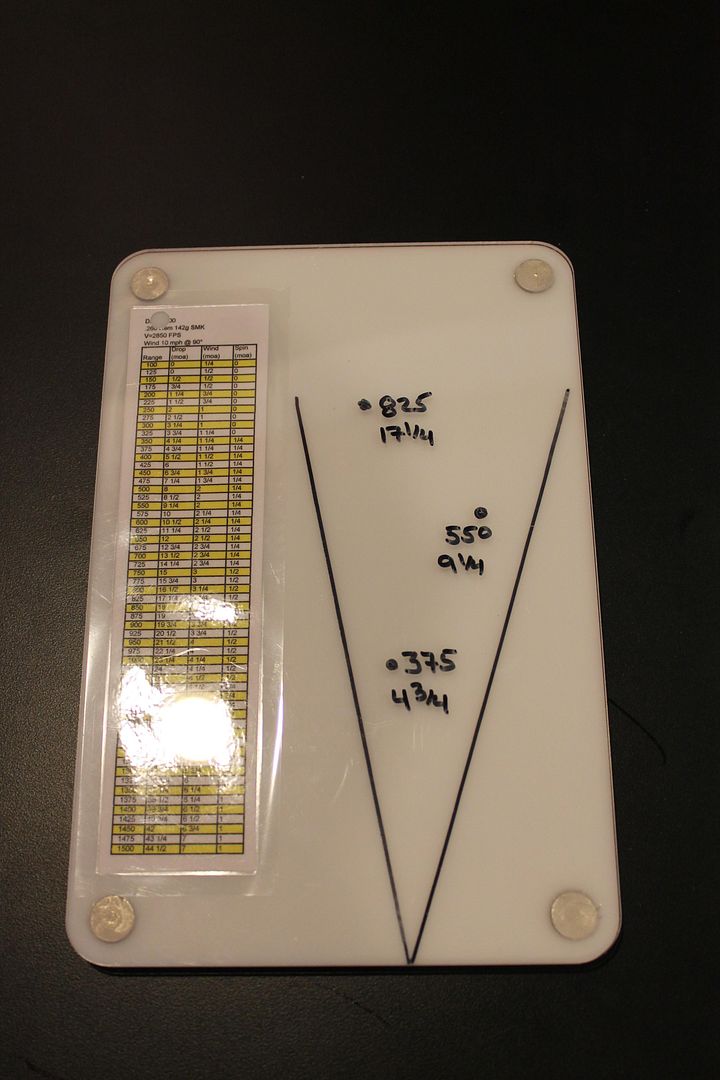 It's two layers of Acrylic, one white and one clear, and they are held together with magnets. You slip your dope card between the layers, and then you can write with a wet or dry erase marker on the clear top. You can also write on the white base if you have something you don't want erased every time you change positions. At the Steel Safari, I found I liked to have the "V" representing the target area drawn on the white board. At each stage I just had to jot down the ranges to the targets, writing them down on the clear board roughly representing where they were in the field.
The magnets hold the two layers securely, but are easy to separate by sliding them apart. The boards are 6" X 9" and fit in the cargo pocket of most cargo pants. This is how I ran mine, and it was very fast to deploy. They weigh 12 oz, so they don't blow away in a double value wind, but they not too horribly heavy that they're uncomfortable to carry.
I'm own a cabinet shop in real life, and we have a CNC router in the shop. It's the perfect tool to cut these out. Fit and finish are pretty nice.
Here's a view of the top off the base with all the writing still on the parts.
And here's a view of the board with the writing erased. Note these photos are of an early prototype I ran at Steel Safari. The just completed production versions have a lanyard hole drilled through both layers at the top.
We're making these available for $45 shipped CONUS. We accept PayPal or checks.
The address for PP is
timkulinstudios@aol.com
. If you want to send paper money, send an email to that same address and I'll send you back the physical address.
BTW, I'm half of the team that's been producing the zero stops for SWFA Super Sniper scopes. We've sold lots of those and have a good reputation for a quality product and good service.