Killshot44
XGunny Sergeant
Rating: 3.4/5 this site
622 posts this site
Brass Cleaning and Annealing for Snipers Hide Members!
02/25/2015
Last edited 02/02/2016 by Killshot44
(2 votes)
[HR][/HR]
(this thread was originally created and approved for posting by LowLight in June 2011 )
Would you like to clean your brass with Stainless Steel media and Machine-Anneal them, but can't justify the cost for the equipment? I know, $500 for an annealer and $250 for the SS setup will buy a lot of new brass.
I've been aiding SH members for several years and have serviced 100,000+ cases for 200+ members. This is
not
a business, I'm just a disabled shooter with time on my hands.
For just .10/case* I will decap your cases, clean them using stainless steel media and machine-anneal them using Bench-Source annealers.
For cases already decapped and SS cleaned, the cost for annealing is only .05/case.
* for .338Lapua and other calibers with caseheads larger than .532" the cost is .25/case.
I can do everything from .20Ruger to .375Magnums.
Whether you have range pick-up dregs or carefully neck-turned benchrest cases, I'll treat them as my own.
When to anneal is an often-asked question. Generally, cases shot from a factory-chambered barrel and re-sized using non-bushing dies will work-harden sooner than those fired from a gunsmith-chambered barrel and resized using bushing dies. If you're seeing a known-to-be-good load start to lose accuracy and it's not the round-count of the barrel, it is likely to be the brass.
24-72hr turnaround. No order too small or too big.
Brass will be shipped back via Priority Mail boxes which cost $6.80 for Small, $13.45 for Medium and $18.75 for Large. (prices updated 1/20/16)
Payment in Cash or Money Order can be sent with the brass. PayPal is also accepted, PayPal address is
bobariana@comcast.net
.
Please include something with your name, address and Hide screen name with your order
.
Here's the Ship To address:
Bob Ariana
173 Doray Drive
Pleasant Hill, CA 94523
Be sure to tape the box thoroughly and cushion the cases with bubble-wrap or some padding, the Postal Gorillas are not gentle.
Please use a NEW box, used boxes often lead to crushed casemouths.
My sincere thanks to Frank/Lowlight for letting me put this out there to the Hide membership.
Please PM me with your questions and Good Shooting to all.
Turn your brass from this
To this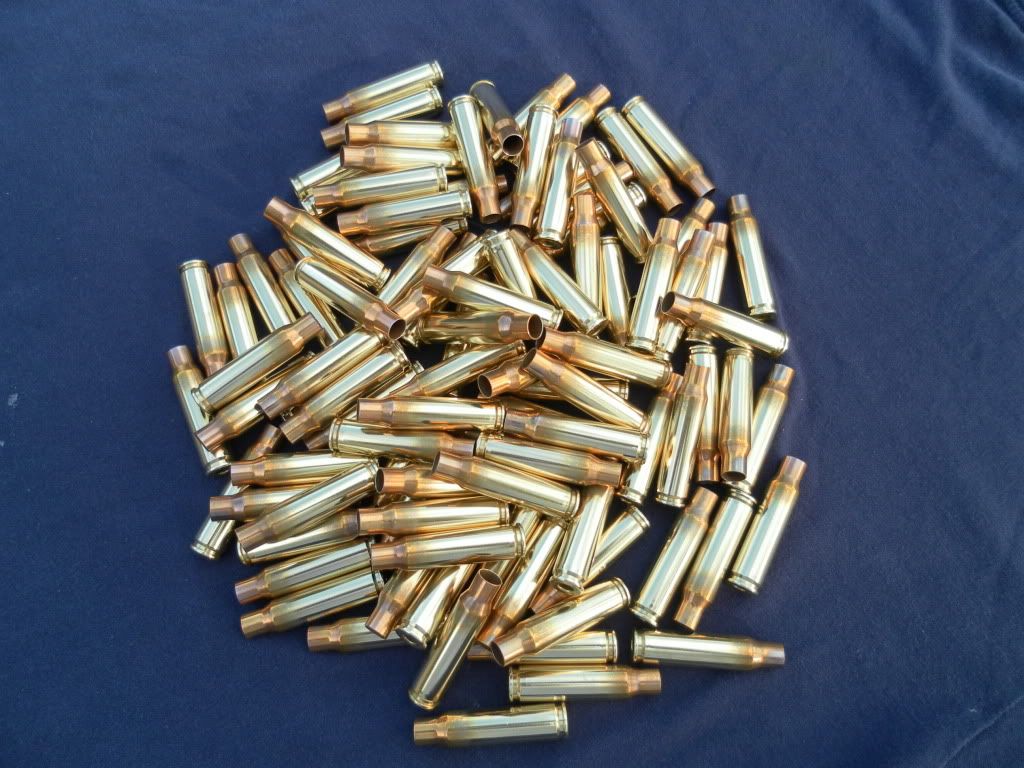 :
Thanks to everyone who has used my service, I enjoy helping others shoot better.